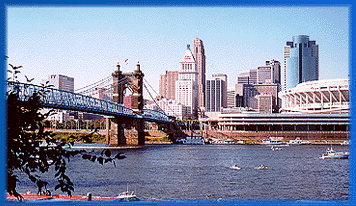 Greater Cincinnati
Ostomy Association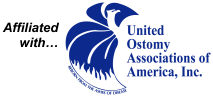 Serving the Greater Cincinnati and Northern Kentucky Area Since 1959

Mission:
The Greater Cincinnati Ostomy Association is a volunteer-based health organization dedicated to providing education, information, support, and advocacy for people who have had or will have intestinal or urinary diversions.

National Affiliation:
The Greater Cincinnati Ostomy Association is now happy to be affiliated with UOAA (United Ostomy Associations of America). UOAA shares in our goals and will help us achieve our mission.

July 7 - 12, San Diego Sate University
| | | | |
| --- | --- | --- | --- |
| | Also Join Us on | | |
---
---
Support & Education Meeting Locations and Schedules
Our Main Meeting Location is Bethesda North Hospital
10500 Montgomery Rd, Cincinnati, OH 45242
In Even Numbered Months (Feb, Apr, June, Aug, Oct, & Dec)
MAP
Afternoon Satellite Meetings: West East
Next Outing
Dinner Outing
Wednesday, Wednesday, July 16, 2014 6:00 PM
Location: Rusty Bucket Corner Tavern
in Rookwood Commons
2692 Madison Rd, Cincinnati, OH 45208
Next Support & Education Meeting
Previous Meetings & Gatherings
Thursday June 19, 2014 7:30 PM
Topic: "Ask The Doctor"
Guest Speaker: Dr. John Loughrey - Gastroenterologist
Attending RNET/WOCN: Rita Pochard - UC Health University Hospital
Also Thank You to Caitlan from Hollister
For Sponsoring Our Annual
Spring Ice Cream Social

Thursday April 17, 2014 7:30 PM
Topic: "Medical visits after you leave the hospital & Ostomy Clinics"
Attending RNET/WOCN: Dr. Sally Arnold - The Christ Hospital

Thursday February 20, 2014 7:30 PM
Topic: "Roundtable Discussions"
Attending RNET/WOCN: Kathy Lauer - Daniel Drake Hospital

---
---
Thursday December 19, 2013 7:30 PM
Topic: "Holiday Party"
Attending RNET/WOCN: Kinda Walden - Jewish Hospital-Kenwood

---
Dinner Outing
Wednesday, January , 2014 5:30 PM
Buckheads in Belview

---
Picnic at Montgomery Park Shelter
Thursday, September 12, 2013 5:30 PM
---
Thursday August 15, 2013 7:30 PM
Topic: "Round Table Discussions"
At Bethsda North Hospital

---
Thursday June 20, 2013 7:30 PM
"Ask the Ostomy Nurse"
At Bethsda North Hospital
Attending RNET/WOCNs
Rita Pochard
The University Hospital
Also Thank You to Caitlan from Hollister
For Sponsoring Our Annual
Spring Ice Cream Social

---

Dinner Outing
Wednesday, May 15, 2013 6:00 PM
Location: Ron's Roost in Bridgetown
3853 Race Rd, Cincinnati, OH
Map
---
Thursday April 18, 2013 7:30 PM
"Roundtable Discussions"
At Bethsda North Hospital
Attending RNET/WOCNs
Kinda Walden Jewish Hospital Kenwood
---

Dinner Outing
Tuesday, March 19, 2013 6:00 PM
Location: Rusty Bucket Corner Tavern in Rookwood Commons
2692 Madison Rd, Cincinnati, OH 45208

---
Thursday February 21, 2013 7:30 PM
"Roundtable Discussions"

---
---
Mail:
Greater Cincinnati Ostomy Association
P.O. Box 14683
Cincinnati, Ohio 45214-0683

Voice Mail: (513) 881-2547


---
DISCLAIMER: The documents contained within these web pages are presented expressly for informational purposes only. In no way are any of the materials presented here meant to be a substitute for professional medical care or attention by a qualified practitioner, nor should they be construed as such. ALWAYS check with your doctor if you have any questions or concerns about your condition, or before starting a new program of treatment. The sys-OP is not responsible or liable, directly or indirectly, for ANY form of damages whatsoever resulting from the use (or misuse) of information contained in or implied by these documents.
---
Created (1/15/2001) and maintained by (Webmaster)
Please send comments to:
Copyright © 2001 Greater Cincinnati Ostomy Association
Revised: 7/1/14